Live music at Accurate Records Loft, Somerville MA: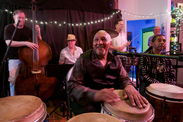 Slippin' and Slidin' Toward Summer


Our April party was the best yet, according to experts. We premiered our version of Richie Ray's "Mr. Trumpet Man" and it's a keeper. So... we're doing it AGAIN on June 3.

Saturday June 3 the most fun place in town to be is the Accurate Records loft in Somerville, shaking your money maker to the 1960's Latin grooves of Richie Ray, Joe Cuba, George Guzman and Pete Rodriguez as reinterpreted by the brave cabelleros of Lookie Lookie.

The event is a PARTY. We supply food and drink, we also encourage you to bring what you like to drink and perhaps some food if you're in the mood. Mostly more drinks...!

This is music you can dance to (with or without mambo skills), listen to, or just party to. Girls - if you've been looking for something that will get the most dance-shy guy to shake it, this is IT.

We are simplifying the pricing into three tiers this time. The minimum is $20 - a great deal! If you have the means to pay for the higher priced tickets, you will be doing that much more to keep this scene happening.

And, we do very much appreciate when you pay in advance through Brown Paper Tickets instead of waiting to see if we can squeeze you in on the night of the show.

Doors open at 8
Set one at 9:30
Set two at 11:00
Nouveau Stride

with special guest Paolo Alderighi
Sunday, June 11, 7:30 pm
Special event! Accurate Records regulars are accustomed to some pretty rowdy events, but this will be a listening set featuring our new (used) grand piano and three great performers.

(Fear not: after the music, there will be socializing - and you can BYO drinks and partake throughout!)

Lyricist/jazz vocalist Lorraine Feather has written lyrics for film, television, and numerous jazz artists albums. Lorraine is a seven-time Emmy nominee as a songwriter; with longtime collaborator Eddie Arkin, she created the title song for Warren Beattys 2016 film Rules Dont Apply. Lorraine has been producing albums of original material for herself as an artist for 20 years, to significant critical acclaim. Her last four releases received a total of five Grammy nominations. Lorraine was born in New York, the daughter of jazz writer Leonard Feather and god-daughter of Billie Holiday.

Jazz phenomenon Stephanietrick has forged a brilliant career playing stride piano, a style which developed in the 1920s and 30s. Stride is not only technically demanding but incredibly exciting to watch. Stephanie learned to play classic stride pieces by James P. Johnson, Fats Waller, and Willie The Lion Smith by ear when she was still in high school. She tours extensively, and has recorded ten albums. Stephanie now divides her time between homes in her native St. Louis, and Milan, touring as a solo artist and with her pianist husband

Paolo Alderighi

.

Lorraine and Stephanie met seven years ago. A mutual friend who knew that Lorraine had written lyrics to stride pieces, told her about the young piano sensation. She got in touch with Stephanie; they swapped albums, met in Los Angeles, and decided to create Nouveaustride and put together an album of newly-lyricized stride pieces,

Fourteen.



[Lorraine Feather is] easily one of the most creative lyricists of her generation Feathers skills as an actress and her infectious, versatile voice add to her appeal.
Ken Dryden,All Music Guide

[Stephanie Trick is] One of the nicest gifts to arrive on the jazz piano scene in recent times, and we couldnt be more delighted to welcome her.
Dick Hyman

Doors open at 7:30
One set at 8:00
New release: available May 17
Recent release:
Brian Carpenter & the Confessions
The Far End of the World
The debut album from Brian Carpenter and the Confessions finds the leader's weary yet melodic voice carrying timeless tales of lost love, memory and desire, wandering lyrically across an arid yet fertile American landscape. Melding styles from 50's balladry to reverb-drenched spaghetti western music, The Far End of the World will appeal to fans of music as diverse as Johnny Cash, Wilco and the Velvet Underground




Joined by violinist/singer Carla Kihlstedt of the Tin Hat Trio for many of the tracks, and backed by an ace crew of Boston musicians, the Florida-born Carpenter unfurls an eerie and seductive tapestry of sound and words in songs that seem less like they were written than they emerged from an imaginary, vivid landscape.


Carpenter's work as a trumpeter in a quite a different vein can be heard on three Accurate releases from the Ghost Train Orchestra.

Buy CD, vinyl or MP3 download at Amazon
_______________________________________________________________
Listen to songs from The Far End of the World...